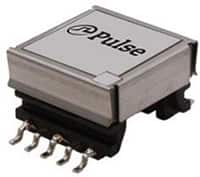 The PGT646xNL series expands Pulse Electronics EFD15 power transformers, known for their versatility in DC/DC converter applications. The platform uses an innovative bobbin design to extend the pin-to-core creepage distance to a minimum of 5.1 mm with minimal impact to sizing and employs a 5+5 pin SMD platform design (22.0 mm × 16.5 mm x 11 mm).
The PGT646x series comprises two transformers differentiated by their input voltage range and withstand voltage specification. The PGT6466NL fulfills the 3000 VDC application isolation requirement for low voltage input. The high input voltage PGT6465NL utilizes the full isolation capability of the extended creepage platform with a 4000 VRMS isolation specification. The bobbin design and wire selection allow for winding automation, making this product well suited for high-performance and high-reliability applications such as data communications, industrial, and automotive markets that also require a price-competitive solution.
Features
4000 VRMS hi-pot
Power range: up to 12.5 W
Height: 11 mm max.
Footprint: 21.9 mm x 16.5 mm max.
Topology: flyback transformer
Creepage: PRI to SEC 5.1 mm min.
Clearance: PRI to SEC 5.1 mm min.
Applications
DC/DC converters
Data communications