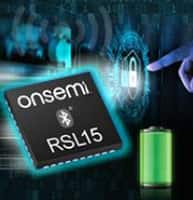 onsemi's RSL15 is an ultra-low-power secure Arm® Cortex®-M33 processor-based Bluetooth Low Energy (BLE) 5.2 wireless MCU designed for connected smart devices in industrial and medical applications.
With built-in power management, a wide supply voltage range, flexible GPIO and clocking scheme, and an extensive set of peripherals, the RSL15 offers maximum design flexibility for high-performance and ultra-low-power applications. The RSL15 includes 80 kB RAM and is available in 284 kB or 512 kB Flash options.
Industry leading general-purpose microcontroller (MCU)
Industry's lowest power Flash-based secure Bluetooth low energy MCU
Latest in embedded security with root of trust
Bluetooth low energy 5.2 with long range and localization
The comprehensive yet easy-to-use software development kit (SDK) contains drivers, libraries, sample code, development tools, and mobile apps RSL15 central for iOS® and Android™ and RSL FOTA for iOSand Android.
To get started with RSL15, download the SDK components: RSL15 documentation package, onsemi IDE installer, and RSL15 firmware package.
Resources
Bluetooth 5.2 wireless MCU RSL15 product overview
Features
BLE 5.2 certified with key features

Up to 10 simultaneous connections
Long range (coded PHY)
2 Mbit PHY (high-speed)
Angle of arrival (AoA) and angle of departure (AoD)
Extended advertising
Backward compatibility and support for earlier BLE specifications, including 5.1, 5.0, 4.2, 4.1, and 4.0

Ultra-low-power operation

Sleep mode (GPIO wakeup) @ 3 V VBAT: 36 nA
Sleep mode (crystal oscillator, RTC timer wakeup) @ 3 V VBAT: 81 nA
Smart sense mode allows some digital and analog peripherals to remain active to monitor and acquire data from external sensors at a very low system-level power consumption
Continuous ADC operation in smart sense mode with wakeup on ADC threshold @ 3 V VBAT: 186 nA
Peak Rx current 1 Mbps @ 3 V VBAT: 2.7 mA
Peak Tx current 0 dBm output power @ 3 V VBAT: 4.3 mA
Non-connectable advertising at 5 s intervals @ 3 V VBAT: 1.1 A (average)
Connectable advertising at 5 s intervals @ 3 V VBAT: 1.3 A (average)

Rx sensitivity (BLE Mode, 1 Mbps): -96 dBm
Rx sensitivity (BLE Mode, 2 Mbps): -94 dBm
Configurable Tx power: -17 dBm to +6 dBm
Data rate of 62.5 kbps to 2000 kpbs
Arm Cortex-M33 processor clocked up to 48 MHz
Cybersecurity platform with Arm CryptoCell™-312 for end-to-end product security with secure boot, root of trust, lifecycle management, secure key management, and application and data security
Arm TrustZone® to enable secure execution zones
Two Flash memory sizes available: 284 kB Flash (NCH−RSL15-284-101Q40-ACG) or 512 kB Flash (NCH-RSL15-512-101Q40-ACG)
80 kB RAM (64 kB user RAM, 16 kB RAM for baseband)
Flexible power management: 1.2 V to 3.6 V VBAT directly connect 1.5 V silver-oxide or 3 V coin cells without any external active components
Two SPI ports with QSPI capability
Applications
Industrial automation and sensing
Connected medical sensors
Wearables
Asset tracking
Electronic tags and access control
Electronic labels
Data loggers
Smart appliances
Energy harvesting switches