STM32F103RCT6
Products Introduce: Program Memory Type: FLASH Core Size: 32-Bit Program Memory Size: 256KB (256K x 8) Operating Temperature: -40°C ~ 85°C (TA) Mounting Type: Surface Mount
Brand: STMicroelectronics
Channel:
Self Operated
digikey
mouser
Minimum order quantity: 1
| Number | Unit Price (include tax) | Sum |
| --- | --- | --- |
| 1+ | 2.79172 | 2.79172 |
| 10+ | 2.48846 | 24.88465 |
| 30+ | 2.33320 | 69.99624 |
| 100+ | 2.07783 | 207.78320 |
Stock: 4795
Unit Price: $1.94210
Number:
Price Total: $2.79
Request for Quotation
Tips: Please fill out the below form and we will contact you as soon as possible.
Specifications
Part Status

Active

Program Memory Type

FLASH

Core Size

32-Bit

Oscillator Type

Internal

Mounting Type

Surface Mount

EEPROM Size

-

Voltage - Supply (Vcc/Vdd)

2V ~ 3.6V

Operating Temperature

-40°C ~ 85°C (TA)

Number of I/O

51

Package / Case

64-LQFP

Supplier Device Package

-

Program Memory Size

256KB (256K x 8)

RAM Size

48K x 8

Speed

72MHz

Data Converters

A/D 16x12b; D/A 2x12b

Core Processor

ARM Cortex-M3

Mfr

STMicroelectronics

Connectivity

CANbus, IC, IrDA, LINbus, SPI, UART/USART, USB

Peripherals

DMA, Motor Control PWM, PDR, POR, PVD, PWM, Temp Sensor, WDT

Type

-
Specifications

Reviews

Shipping & Payment

Packing

Guarantees
STM32F103RCT6 Product Detail
MCU 32-bit ARM Cortex M3 RISC 256KB Flash 2.5V/3.3V 64-Pin LQFP Tray RoHS : Compliant#@@#Arrow Electronics;IC MCU 32BIT 256KB FLASH 64LQFP RoHS : Compliant#@@#DigiKey;MCU 32-bit STM32F ARM Cortex M3 RISC 256KB Flash 2.5V/3.3V 64-Pin LQFP T/R - Tape and Reel (Alt: STM32F103RCT6TR) RoHS : Compliant#@@#Avnet Americas;MCU 32-bit ARM Cortex M3 RISC 256KB Flash 2.5V/3.3V 64-Pin LQFP Tray RoHS : Compliant#@@#Verical;Microcontroller Mcu, 32 Bit, Cortex-M3, 72Mhz, Lqfp-64; Product Range:Stm32 Family Stm32F1 Series Microcontrollers; Device Core:Arm Cortex-M3; Data Bus Width:32 Bit; Operating Frequency Max:72Mhz; Program Memory Size:256Kb Rohs Compliant: Yes |Stmicroelectronics STM32F103RCT6 RoHS : Compliant#@@#Newark;ARM Microcontrollers - MCU 32BIT Cortex M3 H/D 256 to 512 USB/CAN RoHS : Compliant#@@#Mouser Electronics;IC: ARM microcontroller; Flash: 256kB; 72MHz; SRAM: 48kB; LQFP64 RoHS : Compliant#@@#TME;Microcontrollers RoHS : Compliant#@@#Chip1Stop;MCU, 32BIT, CORTEX-M3, 72MHZ, LQFP-64 RoHS : Compliant#@@#Farnell;
Comment
5 Stars
4 Stars
3 Stars
2 Stars
1 Stars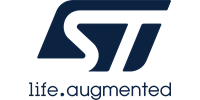 STMicroelectronics is a global independent semiconductor company and is a leader in developing and delivering semiconductor solutions across the spectrum of microelectronics applications. An unrivaled combination of silicon and system expertise, manufacturing strength, Intellectual Property (IP) portfolio and strategic partners positions the Company at the forefront of System-on-Chip (SoC) technology and its products play a key role in enabling today's convergence trends.
Other products of the brand